Beauty is in the eyes of the beholder. Being here in the Tuscan countryside I see beauty with every single turn of my head. When I was alone, however, I was reminded that no matter how beautiful your landscape is, your food is, your wine is, your life is…. it's really only as good as the people that you are surrounded by. When our friends left, even though I knew it was what I came here to do, it was so sad to see them go and I was so lonely for my new people. I felt like I was in a dark alley alone. When my husband stepped off of the train to come join us for the holiday it was more beautiful than any truffle or hillside could ever be. It was pure joy. My heart swelled with emotion and I literally felt the tension in my shoulders relax (no oils or wine can replace his hand in mine). I have never experienced, however, a more generous and loving people and their familiarity is providing comfort and warmth that I hope I get to experience forever more!
I've been reminded of imprints while I've been here. Again, when our people left they left knowing that their people would be here for us. (This is how they live.) Coming from the states, but not knocking on them, I'm not sure that I'm that person at home- how sad!! These people have welcomed us. We have already been invited to dinners, wine, play dates (they don't really do those here- but they played soccer in the piazza, shot nurf guns running down the walled streets and went to their new friends home), Thanksgiving with our friends and a German night in December. I can't think of another place that is as welcoming and loving as this. I am going to make it my mission to be dedicated to being more like the people that are giving us a temporary home here!!
Everywhere you look people are together… they don't seem as busy as we seem to be. They are relational. They aren't checking their phones at dinner or huffing in the grocery line because it takes a bit. They are in the moment and the moment is perfect.
Christmas Markets are a great way to experience life and family in Tuscany. We experienced families and friends (again lines always blurred and I LOVE IT) enjoying each other, laughing kissing, talking, dining. Being together is enough and everyone is out being!! I love that people explore and experience in ways that are deep and precious.
Montepulciano- Christmas Market
Montepulciano is a another walled city about 40 minutes away from Cortona. The city itself is magnificently beautiful for sure- and the drive is something out of a picture. I kid you not, everywhere you look feels like you're looking at a Tuscan Print. The rolling hills, that are hugging the grape vines and shimmering olive trees alike, are breathtaking. It feels like your mind is reading to you the most romantic story. I'm enamored.
On the day we arrived in Montepulciano it was the beginning of the Christmas Market. As you walk towards the piazza lights are simply draped above our heads and old fashioned, wooden, huts are set up throughout . Here you can purchase Christmas Ornaments, jewelry, fantastic sausage and meats, wine, shoes, Italian wool, and the list goes on…. It's magical and my family appreciated every moment. I would be remiss without mentioning the hot chocolate. If you've never had hot chocolate in Europe you've never experienced the rich amazing goodness that awaits!! OH MY HEAVEN IN YOUR MOUTH!! I feel like we've stepped back in a magical time.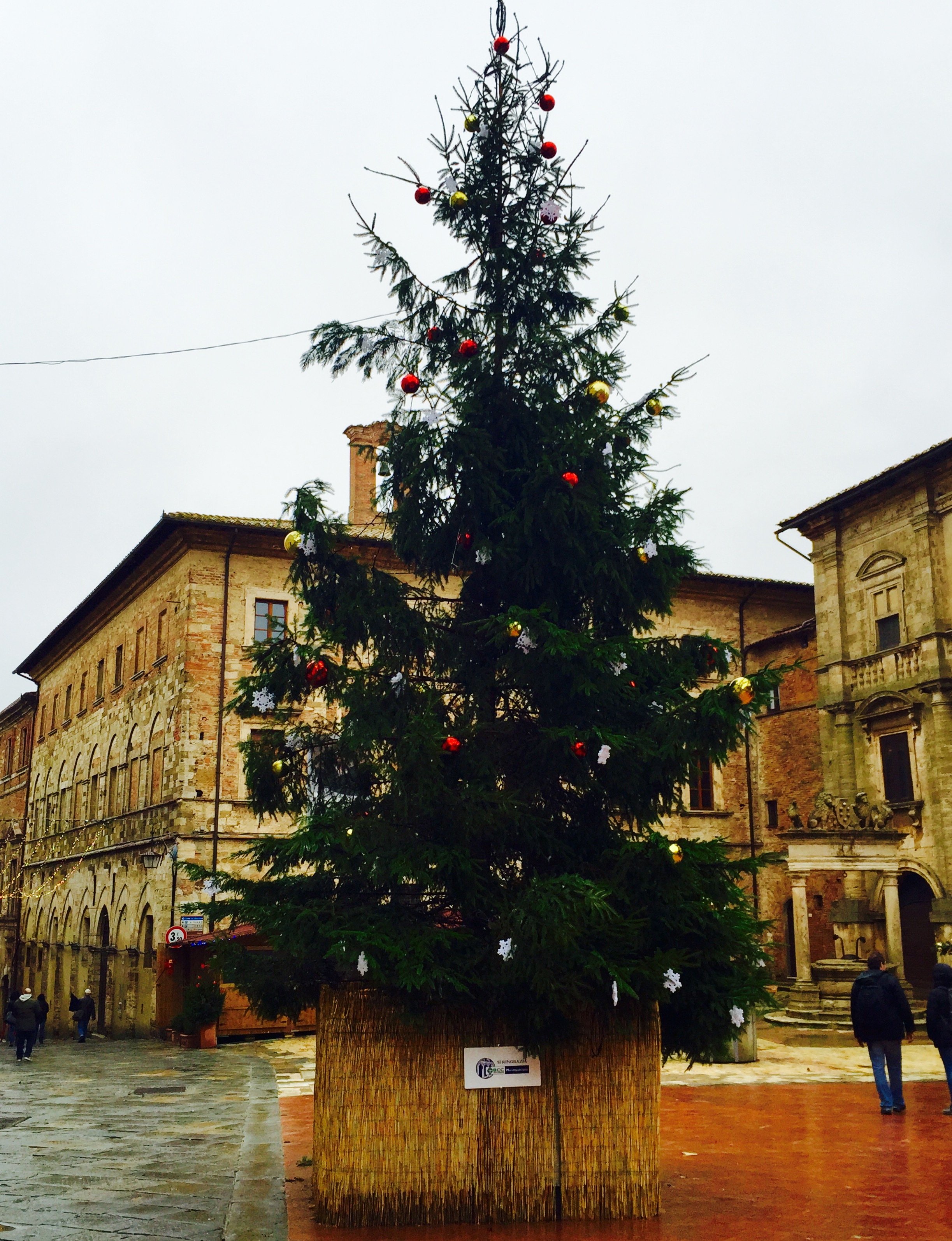 Family- I heard once or twice- was all about blood- respectfully I will tell you that my family means the world to me (they have all of me). "FAMILY", however, transcends those restrictions and embraces the amazing lives that have imprinted on our lives in ways that go beyond those bounds- these too are family- regardless of blood or not. I bring this up because this is what I witness here in Tuscany. If you sit back and watch people approach a piazza- families (immediate, aunts, uncles and elders ) are apparent – so are friends, individuals, singles, widowers.. families here appear to be all encompassing and welcoming. A few nights ago we experienced the most wonderful dinner with new friends and our families. We talked, laughed, and shared amazing food. We just met and the night felt like we had been waiting to see our forever friends- and it couldn't end. We made plans. This is what this place does. It creates family and embraces people which is more beautiful than the Tuscan picture that I'm forever captivated with does. The picture itself leaves you wondering- but the life here leaves you knowing that the beauty is within each of us- and the imprint is deep-it is a forever thing.